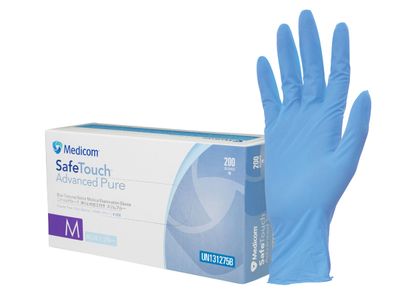 SafeTouch Advanced Pure Nitrile Gloves
Medicom
Often chemical accelerators like Thiurams, Thiazoles and Carbamates are added in the glove manufacturing process to enhance its strength and elasticity. These chemical accelerators in the gloves are known to be common contributor in causing hypersensitivity.

The SafeTouch® Advanced Pure accelerator free glove emphasises the fundamental needs for safety and care. The gloves are manufactured without the use of the chemical accelerators resulting in a cleaner, more skin-friendly product. It provides the best possible solution when you need the barrier protection of a glove and healthy skin for your sensitive hands.

Low dermatitis potential with better protection to glove users with Type I Hypersensitivity (natural rubber latex protein) and Type IV Hypersensitivity to Chemical allergens.
Medical examination grade, chemotherapy tested gloves, with high-level of barrier protection against punctures as well as excellent chemical resistance
Textured fingertips for a better grip in both wet and dry situations ensuring a safe and delicate handling.
Innovative nitrile technology offering protection and latex-like comfort.
HACCP certified making it safe to use in the food industry.
Complies with ASTM D7558-09, ASTM D6978-05, ASTM D6319, EN 420, EN ISO 374, ISO 10993-10, HACCP, EN 1186
Product Features: Accelerator Free, Ambidextrous, Beaded Cuff, Chemo Drugs Tested, Fingertip Textured, Food Grade, Latex Free, Medical Grade, Powder Free, Single use
Medicom SafeTouch Advanced Pure Gloves comes in boxes of 200 and are available in sizes Extra Small, Small, Medium, Large and Extra Large.
SKU: CHS-MED-UN131275A