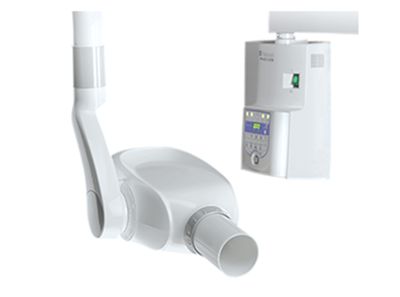 Belmont Phot-X IIs (POA)
Belmont
LCD touchscreen sub-controller
Sum of radiation dose displayCheck the radiation dose of each patient. Reset the sum by keeping touch the sum number.
Display of exposure timeChange the exposure time easily by touching the arrow and obtain the image you desire.
Display of radiation dose of each exposure.
Intuitive and easy selection

Intuitive and easy selection of tooth type, cone type, film / digital modes, film speed, kV, mA and patients size.
Customizable LCD display view
LCD display view can be customized for operator preference.
Built-in USB side port enables operators to import personalized screen saver photographic images or dental practice / doctor's name for practice identification and branding.
Reliable DC X-ray by Belmont
Belmont's High Frequency Technology allows for:
High resolution image by a small focal spot
Reduced skin dosage with optimum radiation level for every diagnostic need
Easy to position compact tube head
Ideal matching for digital imaging system
CONTACT US for prices and further information
SKU: CHS-BEL-PHOT-XIIS