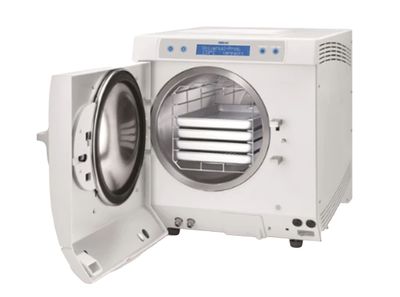 Euroklav 23VS+ incl. 4 trays + MELAflash (POA)
MELAG
"Class S" with pre-vacuum and vacuum drying

MELAG offers practices an economically alternative to the Vacuklav-series with its Euroklav 23 VS+, which, by reason of the instruments and the type of wrapping used there, require no "Class B" steam sterilisers.
The Euroklav 23 VS+, being larger than the Euroklav 29 VS+, is especially suitable for practices that want to sterilise longer instruments because it has a chamber volume of 22 liters (depth of chamber is 45 cm).
The Euroklav 23 VS+ features four "Class S" programs for sterilisation of unwrapped or wrapped instruments and textiles.
The powerful and efficient vacuum pump creates a simple pre-vacuum for safe removal of air before sterilisation and for optimal post-drying of the instruments after sterilisation.
The modern electronic design permits versatility in batch documentation, by integrating with the network and MELAtrace, through the compact flash card or as well as with the known MELAprint 42 log printer.
CONTACT US for prices and further information
SKU: CHS-MEL-10056L