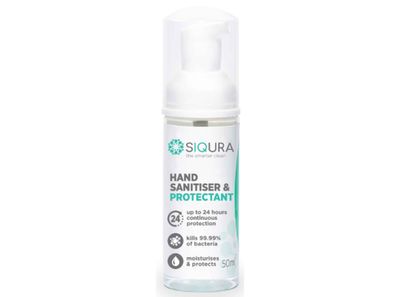 SIQURA Hand Sanitiser & Protectant - Travel 50ml
Siqura
UP TO 24 HOUR PROTECTION
SIQURA™ Hand Sanitiser & Protectant provides long term antimicrobial defence — it kills 99.99% germs and lasts up to 24hrs assuming typical daily activity. The foam goes on wet and dries to form a microscopic protective barrier that continues to destroy bacteria for long lasting protection and peace of mind. Most sanitisers evaporate within a short period of time, leaving hands vulnerable to recontamination.

SIQURA™ Hand Sanitiser and Protectant is a two-in-one solution. It sanitises hands and then remains bonded to create a protective shield that continues to defend against bacterial attack.

You can use this hand sanitiser on dry hands, as well as a replacement for a normal soap - using it with water.

This bottle will last up to 100 foaming applications. That's over 3 months worth of daily protection.

If you are travelling, it's a great idea to reapply as needed.

This 50ml foaming bottle is refillable with our 5L drums.
SKU: CHS-SIQ-0-1504