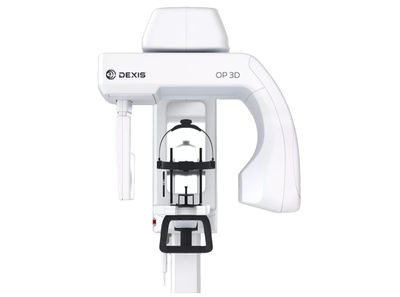 OP 3D (PAN) 2D (POA)
Dexis
ORTHOPANTOMOGRAPH OP 3D is a powerful diagnostic tool for 3D imaging, panoramic, and cephalometric imaging.
The OP 3D makes choosing your X-ray system simple. It is a complete X-ray platform that provides easy-to-use features throughout the entire dental imaging workflow.
3D
4 resolutions for 3D (Low Dose Technology (LDT), Standard, High, Endo) combined with Metal Artifact Reduction (MAR) technology
4 predefined volumes: 5x5, 6x9, 9x11 and (optional) 9x14 cm - thanks to SMARTVIEW 2.0 the volumes are freely positionable and height adjustable in 5 mm steps between 5 and 9 cm before the exposure, leading up to 36 possible FOV sizes in total.
Panoramic
Fast Scan - 2D panoramic imaging in just 9 seconds
ORTHOfocus feature for providing the optimum panoramic image layer automatically
Panoramic programs for covering the daily needs of a busy practice
Cephalometric
Innovative and patented ORTHOceph Plus design with fast cephalometric imaging scan times and adjustable field sizes for perfect image quality with minimal dose.
CONTACT US for prices and further information
SKU: CHS-DEX-0.805.6300