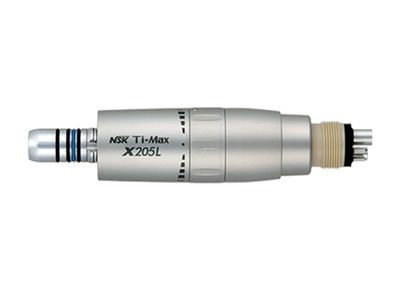 Air Motor - Ti-Max X205L
NSK
Login for prices. Prices include gst.
Advantages
• Shorter and lighter unsurpassed balance Air motor
• 360° Swivel with LED illumination (32,000 LUX)
• Simple connection to your existing hose
The Ti-Max X205L delivers powerful, smooth and quiet rotation, with loads of torque at all variable speeds. Connect to all brands of E-type optic and non-optic contra-angle handpieces.
• 360° Swivel with LED illumination
• 32,000 LUX
• Titanium body with scratch-resistant DURACOAT
• Non-Retraction Valve
• Max Speed: 23,000 min-1 ±10%
• Internal Water Spray
SKU: CHS-NSK-X205L