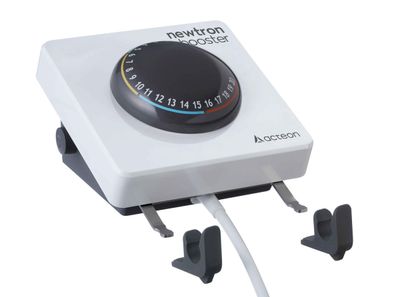 Newtron Booster
Acteon
Login for prices. Price includes gst
Delivered with a Newtron® handpiece, a power supply, a N°1 tip and an autoclavable universal wrench
A GENTLE TREATMENT
Newtron® Booster preserves the teeth and the soft tissue : - its perfectly controlled ultrasonic vibrations allow precise and gentle treatments - the specific quality of the steel of the tips preserves the anatomy and enamel.
MAXIMUM EFFICIENCY
An automatic and continuous frequency adjustment ensures maximum and continuous efficiency, regardless of the load applied. In addition, a real-time power compensation.
INCREASED COMFORT
Linear and regular vibrations make treatments more comfortable for the patient. Soft tissue are preserved, with no gingival damage and decreased cementum removal.
INTUITIVE SETTINGS
The Color Coding System™ intuitively associates each tip color ring with one of the 4 power ranges.

NEWTRON® TECHNOLOGY
Controlled linear vibrations, automatic and continuous frequency adjustment for safety and comfort.
SKU: CHS-ACT-F60203