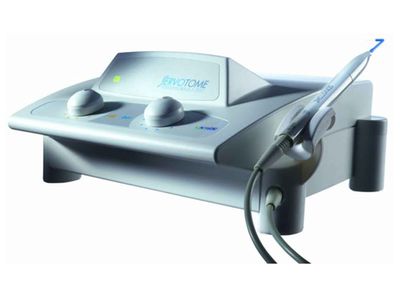 Acteon Servotome II
Acteon
Login for prices. Price includes gst
A NEW IMPULSE IN ELECTROSURGERY
Perform oral surgery on soft tissue quickly, precisely and safely.
High frequency electrosurge for orthodontics, periodontics and other oral procedures.

Efficient & Secure Surgery
Servotome totally respects biological tissues: the fine and even cut with no side effects allows
good-quality healing.

30 Watts is Sufficient
Due to the technology evolution associated with the conductive bracelet, 30 watts is sufficient to
perform all dental incision and coagulation procedures providing greater safety.
MAIN CHARACTERISTICS
CONDUCTIVE BRACELET
Best compromise for safety and convenience:
Easy to install to improve patient acceptance
In direct contact with the patient's skin
Easily disinfected
Adjusted to a contact region with a low resistance
Ideal size to avoid concentration of heat
Safer: complies with latest standards

A BROAD CHOICE OF ELECTRODES
10 electrodes classified according to their size and hemostatic capacity
Incision, excision, fulguration and coagulation
Fast and safe assembly

ELECTRODE HOLDER
Light and autoclavable
Simple-to-mount electrodes
Electrode is insulated by a sheath

CLINICAL APPLICATIONS
Incisions/Excisions
Frenectomy
Gingivoplasty
Coagulation
Abscess incision
Exposure of impacted/retained teeth
Gingivectomy etc
READ MORE here

SKU: CHS-ACT-F57230