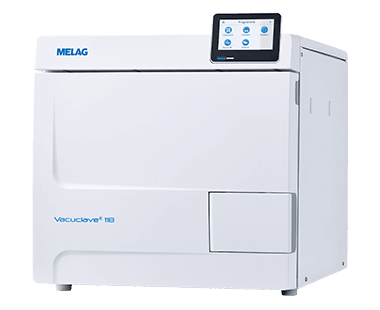 MELAG Pro Line Vacuclave 18L with 5 Trays & USB Stick
MELAG
Price includes gst.
Chamber volume: 17 litres
The chamber concept (ø 25 cm x 35 cm long) offers you enough space for the safe sterilization of up to 5 kg of instruments on 5 trays.

The new MELAG autoclaves Vacuclave 118 and Vacuclave 123 – love the quality and the price:
Powerful class B vacuum process: Reliable sterilization of up to 6 kg on 5 trays in only 15 to 27 minutes (plus timed drying).
Smart-Touch Display with LED status: Touchscreen with intuitive menu structure for easy operation just like your smartphone
Connectivity and data logging: Compliance with legal requirements by saving sterilization parameters via USB stick or network*
Stand-alone concept: Integrated water tanks and highly effective air cooling for site-independent operation without cooling water
Power Save energy-saving mode: Heating and display go into standby mode between sterilizations for top energy efficiency*
EasyCare routine concept: User-friendly optimizations for efficient filter replacement, tank cleaning and water supply

No matter what tasks the day keeps ready for you, Vacuclave 118 and Vacuclave 123 have your back in the reprocessing room. But that's not all: On top of that our Prime Line price-performance champions impress with even higher loading capacities, excellent drying results and extended approval functions.
SKU: CHS-MEl-VAC118