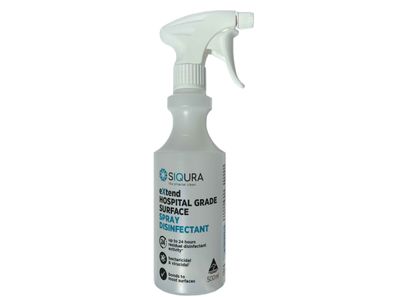 SIQURA Disinfectant and Protectant Spray
Siqura
SIQURA eXtend Hospital Grade Disinfectant and Protectant is a three-in-one solution.
It cleans, kills microorganisms and then locks on to create a self-sanitising surface that continues to defend against bacterial attack.
SIQURA eXtend offers 24hrs of active defense on surfaces. It is effective against a board range of bacteria incluidng but not limited to Staphylococcus aureus, Enterococcus hirae, Escherichia coli, Pseudomonas aeruginosa, Salmonella choleraesuis, and viruses such as Human Rotavirus, Influenza A H1N1, Human Coronavirus E229, SARS-CoV2 including COVID-19, Human Respiratory Syncytial Virus (RSV), Vaccinia virus, Monkeypox virus, Feline Calicivirus and Norovirus Sub.
On the ARTG Register.
Comes in 500ml and 5L.
SKU: CHS-SIQ-0-1634-1