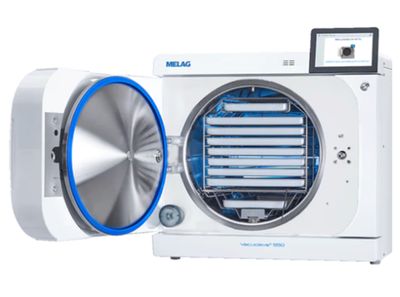 Melag Vacuklave 550 50L (POA)
MELAG
Turn 2 into 1 - Compared to two alternative small autoclaves, Vacuclave 550 ensures significantly more capacity with a 40 % smaller footprint. Sterilize the maximum number of instruments in the minimum amount of space in record time.
Thanks to the extra-large chamber and pioneering innovations, you'll be ready for all tasks with Vacuclave 550: Discover the advantages of our new 50 liter autoclave for energy-efficient, time- and cost-saving sterilization of your instruments:
Outstanding capacity: More space for a load of up to 25 kg on 16 trays or up to 10 MELAstore Boxes
Impressive speed: Patented Double Jacket Technology for record operating times
Intelligent drying: Shortening the drying time with DRYtelligence by up to 80 %
Uncompromising comfort: Extra-large Smart-Touch Display for intuitive operation as simple as your smartphone
Traceable documentation: Documentation and approval directly on the device with ProControl
Pioneering technologies: Recovery, Coolify, Power Safe and DRYtelligence make Vacuclave 550 the cleanest solution - for your budget and the environment!
CONTACT US for prices and further information
SKU: CHS-MEL-10550