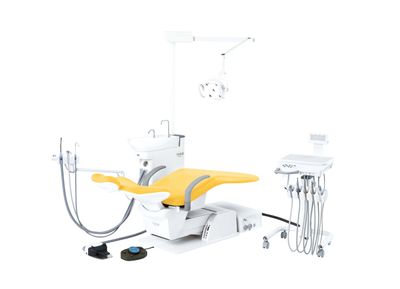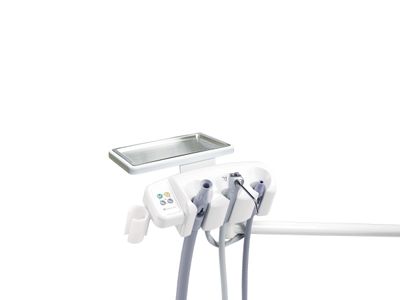 Clesta eIII with 301 LED Light Cart (POA)
Belmont
Compact design to fit to various type of operatory.
Available in a variety of colours to suit your practice.
Simplified design provides ease of handling , enhancement of durability and reduces the complexity of repairment.
During a treatment, dentists can access any operation easily with the simplified membrane switch and the flexible balance arm/operators table for HP.
High durability helps to reduce defects and time to come there for repairing.
Thanks to axis mechanism of the chair, position of patient head and headrest synchronised when reclining.

CLICK HERE to download the product brochure

Options available:
Flushing tray
The flushing system enables easy cleaning of handpiece water lines. The flushing tray as an extra option allows hands-free flushing.

Clean water system
The clean water system offers a choice of 750-ml or 2-litre bottles and can be integrated into the unit to supply handpiece water. The aesthetic cover is an extra option.

Foot control
One foot control can be selected between two switches to regulate chair movement: (1) a manual control switch for up, down, forward, and backward movement, and (2) a programmed-position control switch for 0, 1, 2 and last position. Foot control handle is available as an option.

Assistant's console
Assistant sub-tray increases assistant's work efficiency. (Metal sub-tray is not included.) Moreover, curing light holder enhances the operability of the curing light. HVE tips and SE tip are optional.

Rotating armrest
A swing-out armrest for the right side makes it easy for patients to hold and helps elderly patients mount and dismount the chair with ease.

Double articulating headrest
Suitable for children and adults, and it's improved to adjust patient positioning easily.

Pedodontic chair
CLESTA elll PEDO has a smaller backrest, a shorter seat and a lower cuspidor position to accommodate young children. The double articulating headrest is available as an option.

Monitor bracket
The flat screen monitor bracket can be adjusted to suit individual need. (not including monitor)

CONTACT US for prices and further information
SKU: CHS-BEL-6TBM-CE3-CTES23- AB