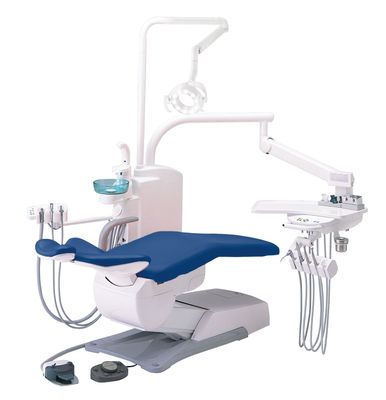 Clesta II with 920 Light (POA)
Belmont
Pedestal type cuspidor unit has no umbilical; this eliminates the need for a utility box, contributing to a tidier appearance and easier cleaning.
Over-patient versatility for comfortable single- and four-handed working positions.

Ergonomic and hygienic features are standard on all CLESTA II treatment centres.

Shown as:– Unit: CLESTA II– Chair: CLAIR CHAIR

CLICK HERE to download the product brochure.

Adjustable chair positioning
A wider range of movements offers a practical working environment that meets all the operators' requirements.

Durable diecast base
The sleek styling of the durable aluminium diecast base offers the dentist improved access with maximum chair stability.

Axis backrest
Synchronised axis backrest ensures optimum patient comfort at all times. Ultra slim backrest for ease of access for both operator and assistant.

Service centre
The built in service centre eliminates the use of external umbilical hoses.

Integrated cuspidor
The highly durable integrated cuspidor creates an attractive, aseptic environment for the patient and the smooth surface makes it easy to clean. Detachable glass bowl is durable, transparent and easy to clean.
Operator's table
Incorporating holder type instrumentation with "first priority system"*, the operator's table is adjustable both vertically and horizontally to give optimal positioning.
Assistant's console
The assistant's console includes 3-way syringe, vacuum and saliva ejector tubings, and easy clean membrane switches to control chair movements, cuspidor bowl flush and cupfiller.
Foot control
A2(control of air instruments, water on/off and chip air) for A type. SE(control of air instruments, water on/off, chip air and control of electric motor/scaler) for E type. Foot controller with handle is available as an option.
CONTACT US for prices and further information
SKU: CHS-BEL-6TBM-C2-E-H-ES25-IB