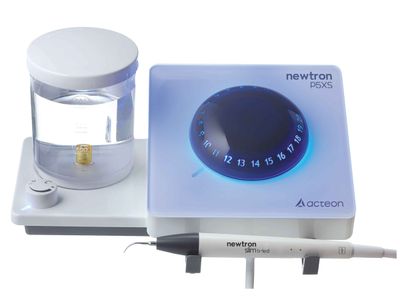 Newtron P5 XS B.LED
Acteon
Login for prices. Price includes gst
Delivered with a Newtron Slim B.Led handpiece with blue ring, a white LED ring, a F.L.A.G kit (5x1.5ml), an australian power supply and a Pure Newtron kit (n.1, n.1S, H3 tips and an autoclavable universal wrench)
MANY POSSIBLE APPLICATIONS
With NEWTRON P5XS B.LED, you can count on faster treatments with more comfortable and versatile ultrasonic scaling. Perform a wide variety of procedures with over 80 unique tips
EFFICIENT AND GENTLE TREATMENT
Newtron® P5 BLED preserves the teeth and the soft tissue thanks to its perfectly controlled ultrasonic vibrations, to the specific quality of the steel of the tips and to its irrigation that reached the end of the tip.
INCREASED COMFORT
Linear and regular vibrations make treatments more comfortable for the patient. Soft tissue are preserved, with no gingival damage and decreased cementum removal.
INTUITIVE SETTINGS
The Color Coding System™ intuitively associates each tip color ring with one of the 4 power ranges.

NEWTRON® TECHNOLOGY
Controlled linear vibrations, automatic and continuous frequency adjustment for safety and comfort.
SKU: CHS-ACT-F62105